Particularly fine, particularly versatile.
Particularly fine, particularly versatile.
Pure silk. Elaborately painted by hand. Every scarf preciously unique.
Much more beautiful and airier than the conventional mass-produced goods made of synthetic fibres. By Ancini/Italy.
The traditional Plangi colouring technique is from Indonesia, and can only be achieved using the best natural materials. Individual sections shaped like a button or cone are tied off with a thread and bound. Then the scarf is submerged in various colour baths. This way patterns in the shape of circles, diamonds and rings are created, which make each scarf impressively unique.
Particularly fine, particularly versatile.
Pure silk allows the batik-like pattern to shimmer elegantly. Your new scarf nestles wonderfully lightly and with its shining blue and warm brown tones combines perfectly with your existing wardrobe. The beautiful form means you can wear it in a variety of ways: Twisted, knotted, looped, ... or just casually draped over your shoulder on cool summer evenings.

Size 130 x 200cm (51.2" x 78.4"). Colour: Blue/brown. 100% silk. Hand wash. Made in Italy.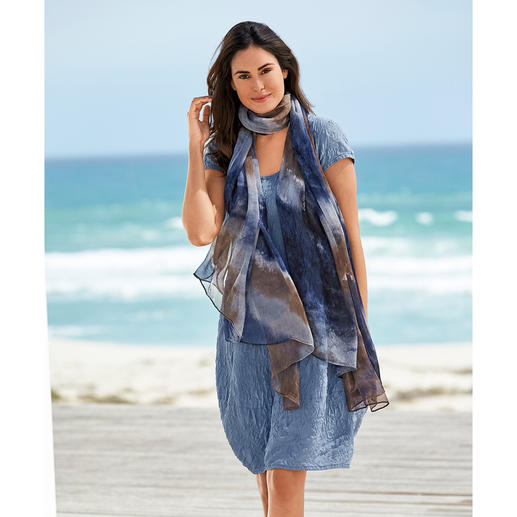 Be the first to review this product