Fashion star, perennial favourite and mix and match essential: The pleated skirt by Smarteez.
Fashionable midi length. Chic suit cloth. Subtle iridescent effect. Casual silver accents.
Extravagant, graphic patterns along with unusual cuts are the trademark of the Italian label Smarteez. With this extraordinary skirt, the young line of the Italian fashion house Plissè S.p.a. has come up with a fashionable masterpiece with the potential to become a real wardrobe classic.
Pleats aplenty.
First, it's sewn as a circle skirt and then given permanent pleats to make the skirt beautifully flowing and slimline. The dark blue and fir green striped background is iridescent and seems almost black depending on the light – and makes the skirt a real mix and match essential! Silver bars – inspired by sportswear reflectors – make trendy highlights. Wear with sneakers for a high-fashion look or with heels to look classic and elegant.

Flared style with narrow waistband and side zip. Length in size 8: 85cm (33.5″). Colour: Dark blue/fir green/silver. 67% polyester, 29% viscose, 4% elastane. Dry clean only. Made in Italy.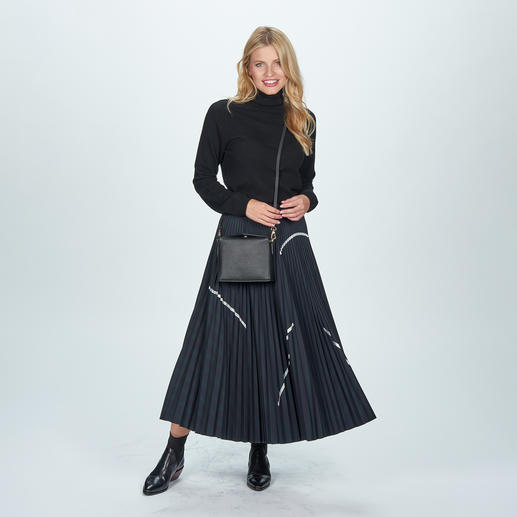 These on-trend pieces go well with 'Smarteez Pleated Skirt':
Be the first to review this product