Seventy Checked Trousers ou Blazer
Seventy Checked Trousers ou Blazer
Fashionable makeover for the classic check suit: New colours. Masculine cut. Soft wool jersey.
By Seventy, Italy.
Both trouser suits and checks are important trends this winter. So, a perfect on-trend combination is a checked suit. However, not the old-fashioned and boring type one often thinks of, but a contemporarily modernised one – like this one from the Italian fashion label Seventy.
The look of a stylish suit – the comfort of home wear.
The soft, warming wool fabric is not woven, but is a jersey knit. It is so stretchy that your suit follows every movement and does not constrict anywhere. It barely creases, does not wear out and is resistant to abrasion and pilling. A silky, smooth half-lining in the shoulders and sleeves makes putting on and taking off the blazer easier.
Blue with cognac: Unusual. Elegant. And amazingly versatile.
Solo, the blazer goes well with jeans and cognac-coloured shoes. For a casual look you can combine the suit trousers with a brown or blue coarse knit jumper, twinset or knitted coat.
In this country an insider tip.
However, Seventy has long been established in Italy, its home country. Founder Sergio Tegon has been producing high-quality women's and men's clothing since 1975.
Blazer is casual and slightly oversized, in two-button style with patch pockets. Slim fit flat-front trousers with creases, two French pockets and two piped back pockets.

Length blazer in size 10: 62cm (24.4"). Inseam trousers in size 10: 75cm (29.5"), leg width at hem: 34cm (13.4"). Colour: Blue/cognac. 74% viscose, 21% nylon, 5% elastane. Lining: 100% polyester. Dry clean only.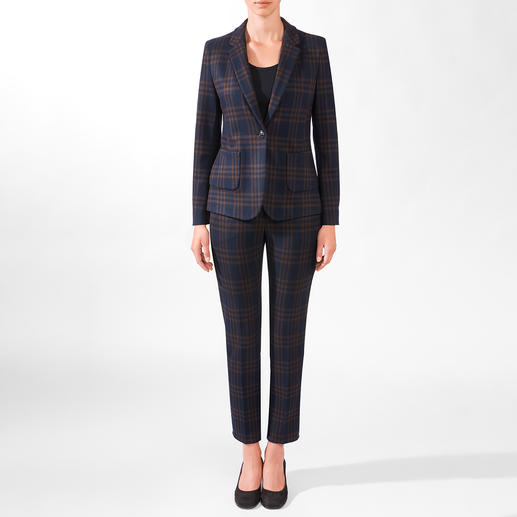 These on-trend pieces go well with 'Seventy Checked Trousers ou Blazer':
Be the first to review this product