The control swimsuit for a flat tummy.
The control swimsuit for a flat tummy.
Plain simplicity, yet anything but dull: Refined and elegant swimwear by Iodus, Paris.
Flattering and with a perfect fit.
Subtly plain instead of loud and colourful – but still an elegant, feminine eye-catcher at the pool and beach. The high quality material is particularly soft, supple and yet pleasantly firm. The wide bands and straps do not pinch, and the sophisticated cut flatters the feminine figure. The designs from the Basque designer Pierre Martinez outlast short-lived fashion trends, and are stylish, feminine and suitable for women of any age.
The control swimsuit for a flat tummy.
The invisibly incorporated slimming insert on the front starts under the bust and reaches down to the gusset. This way, your tummy is beautifully shaped, while your bosom is not flattened (as is usually the case with conventional shape­wear). Double-layered material and the elasticated underbust band provide good support.

Colour: Rust red. 75% polyamide, 25% elastane. Hand wash only.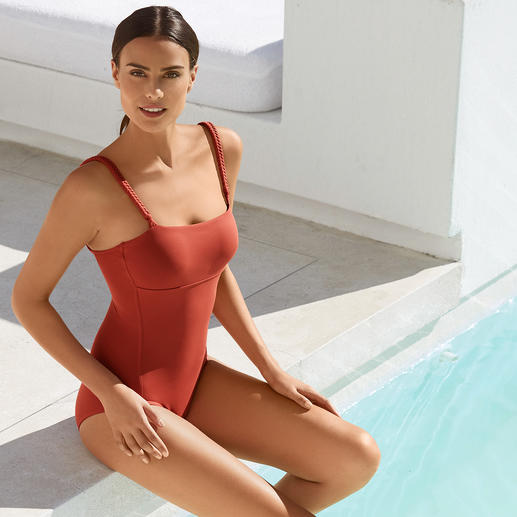 These on-trend pieces go well with 'Iodus Clean Cut Swimsuit':
Be the first to review this product