Goldbergh Waterproof Gaiters
Goldbergh Waterproof Gaiters
Waterproof. Pleasantly breathable and undeniably stylish.
Feather-light gaiters by Goldbergh, the Dutch fashion press favourite.
Thanks to the waterproof and breathable high-tech fabric, these gaiters offer efficient protection against rain, snow and dirt. But unlike conventional functional gaiters, these weigh only 35g and thus don't add much weight. What's more because they fold together, they fit into any pocket. This way, you'll always have them ready to put on with your favourite leisure or business trousers. For short errands in bad weather or long walks in the snow.
A permanently perfect fit.
Four incorporated elastic straps automatically adjust the width. A press stud loop at the lower, narrow end allows you to attach the gaiters to your shoes.
Goldbergh designs are already often discussed in glossy magazines.
The brand was founded in 2011 and is a favourite of well-known clientele, including celebrities, style icons and even winter sports enthusiast royals.

Length 38cm (15″). Colour: Black. 100% polyester. Machine washable.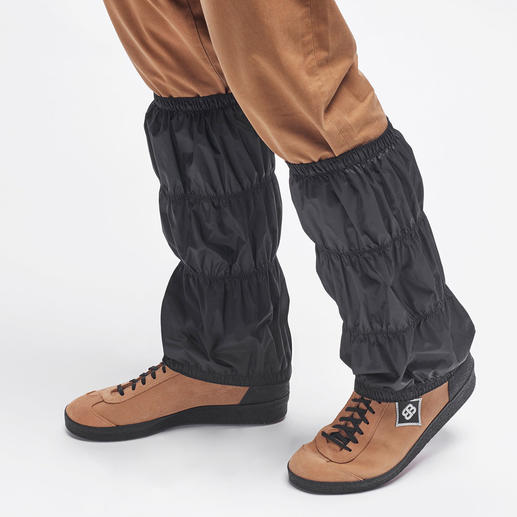 Be the first to review this product