05.04.2020 - We are still here for you. Standard delivery currently takes about about 5 to 7 working days. Mohr
Easywear Blazer, Skirt or Trousers
Easywear Blazer, Skirt or Trousers
Fashionable up-to-date fit. In classic black.
A practical suit amongst classic business suits.
Blazer, trousers and skirt – versatile and easy to mix and match. Low-crease and crumple-free fabric. Even machine washable.
Going on a marathon journey or long distance flight? This 3-piece suit withstands travel wear and hours of sitting. It is almost crease-free and shape-retaining. Even after hours in the suitcase it comes out pristine and is ready to wear – no ironing needed. The high tech microfibre is antistatic, pill-free and wear-free (no shiny spots). And instead of taking it to the dry-cleaners, save money, and wash it yourself in the washing machine.
Fashionable up-to-date fit. In classic black.
Thanks to the trendy fit and the classic black colour, all pieces are versatile and easy to mix and match.
The feminine 2-button blazer is slightly tapered at the waist and covers the hips: A cut that complements slim skirts and shift dresses beautifully. A back vent provides increased freedom of movement. Elegant, deep tuxedo-style lapel. Hand stitched trims. Slanted side pockets.
The trendy jogging pants-style trousers are comfortable and can be combined with a T-shirt and sneakers. Snug elasticated waistband with adjustable drawstring. Two side pockets.
The classic pencil skirt has a vent for added comfort and a zip fastener at the back. Wide, figure-flattering 4.5cm (1.8") waistband.

All pieces in 100% polyester. Blazer and skirt lining made from 100% polyester. Blazer length in size 12: 69cm (27.2″). Slightly tailored. Inseam trousers: 74cm (29.1″). Leg width at hem: 37cm (14.6″). Straight leg. Skirt length: 58cm (22.8″). Straight pencil fit. Machine washable. Exclusive to Fashion Classics.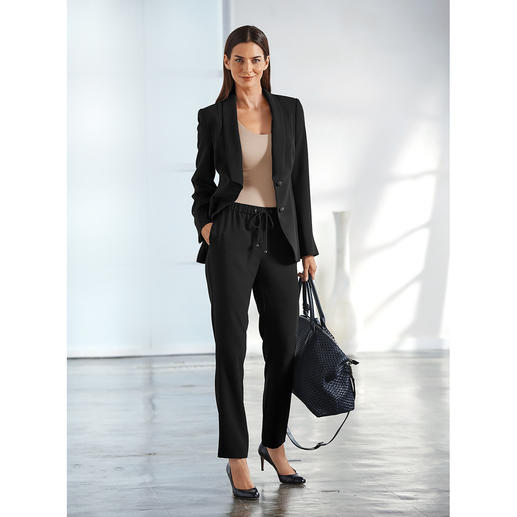 Be the first to review this product