Surprisingly light.
Surprisingly vivid.
Surprisingly light.
Surprisingly vivid.
Frock coat + corduroy: Two classics – doubly trendy when combined.
Design: BENBARTON New York.
In the rococo era, the knee-length double-breasted coat was worn by elegant gentlemen. Now the frock coat is celebrating a comeback in women's fashion. And with the wide-ribbed corduroy, this immediately exhibits another important fashion theme of the 2019 autumn/winter season.
Surprisingly light.
Quite different from the heavy jumbo corduroy of the 70s. Modern polyester fibres are used to create high-tech yarns with lots of trapped air: Voluminous, fluffy and warming while being lightweight. Viscose gives the velvety pile its elegant, shimmering lustre. A bit of elastane provides comfort.
Surprisingly vivid.
Woven in two colours, with a darker background, the fabric has a special depth and the rib structure looks even more striking. Back vent. Classic, pointed revere collar. Decorative buttons on the sleeves. One breast welt pocket, two slash pockets, one inside pocket.

Tailored style. Length in size 10: 93cm (36.6″). Colour: Light brown. 45% acrylic, 35% polyester, 18% viscose, 2% elastane. Lining: 60% viscose, 40% polyester. Dry clean only.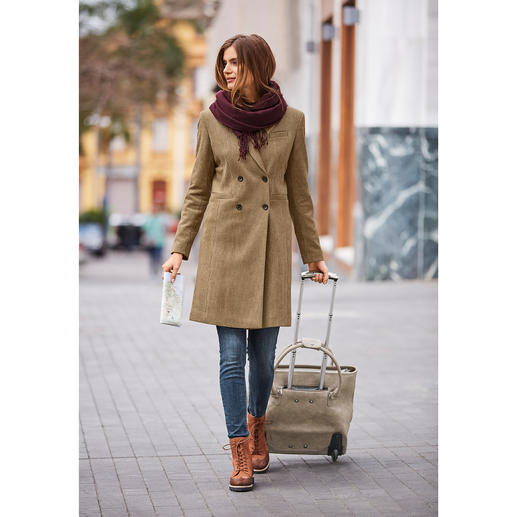 These on-trend pieces go well with 'Corduroy Frock Coat':
Be the first to review this product