Barbara Schwarzer Everyday Dress
Figure flattering cut and pattern.
Barbara Schwarzer Everyday Dress
Figure flattering cut and pattern.
Elegant designer dress for everyday wear or occasions.
Versatile, uncomplicated and really affordable. By Barbara Schwarzer, Düsseldorf.
The silky blend of viscose and jersey made of natural cellulose is one of the best assets of this dress. As it's soft and fluid it follows your every move, and creasing is non-existent! On a busy day, you can easily slip it on quickly in the morning and arrive at work on time looking perfectly dressed. Whether you're going for a stroll in town, a birthday party or visiting a restaurant with friends, this elegant, classic dress is always the right choice and will prove to be a go to item in your wardrobe. Moreover, it's also ideal for travelling – simply unpack, put it on and you're good to go!
Figure flattering cut and pattern.
The wrap-over effect creates a lovely décolleté that is sure to attract attention (but it can't fall open as is the case with genuine wrap-over dresses). Figure imperfections will be cleverly concealed thanks to the side gathers and the large dots to give you an enviable silhouette. Shoulders and bra straps are adequately covered. At high-end fashion brands you'll easily pay £425 or more for a similar dress. However, this model from German dress specialist Barbara Schwarzer costs only £259, representing incredible value.
Narrow shift dress with back zip fastener. Length in size 10: 98cm (38.6"). Colour: Creamy white/navy blue. 93% viscose, 7% elastane. Stretch lining: 72% polyamide, 28% elastane. Hand wash.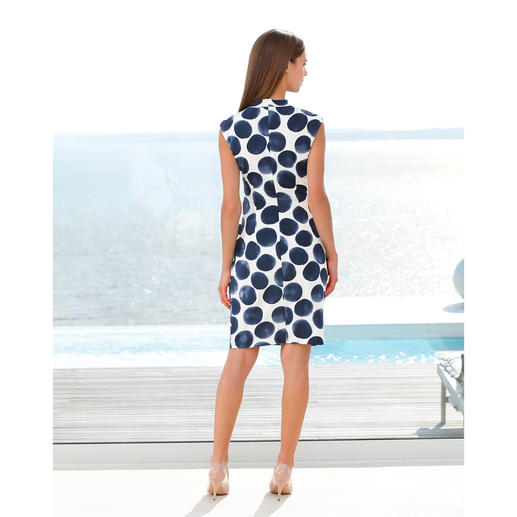 Be the first to review this product