Phil Petter Chenille Knitted Lumber Jacket
Phil Petter Chenille Knitted Lumber Jacket
Fashionable chenille yarn: Velvety as usual. Unusually natural.
Made in Austria using merino wool and cotton. By Phil Petter.
Many of the fashionable velvety yarns now contain a large proportion of polyester blends. The precious Italian yarn used for this luxurious knitwear is purely natural. See and feel the difference: Instead of a synthetic sheen, it has a subtle sheen. Your lumber jacket stays in shape, is warmer and more breathable.
2-ply fabric using rare layering technique.
Lighter and less voluminous than a double-faced piece but with the same double-sided effect: Inside, the merino wool provides pleasant warmth. Outside, the cotton chenille gives it a trendy, velvety look.
Fine stripes and fully fashioned for a perfect fit.
The edging on the stand-up collar, hem and sleeves are a reminder of the fashion revival of corduroy. Sturdy 2-way metal zip fastener with engraved logo on the zip.

Contemporary slim, straight style. Length in size 38: 64cm (25.2"). Colour: Dark blue. 70% wool, 30% cotton. Hand wash. Made in Austria.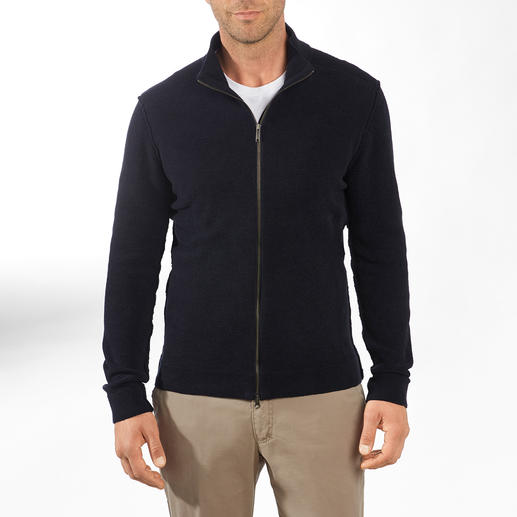 Be the first to review this product