A classic design on ties. Red-hot as a shirt: The paisley pattern.
Stylish, exclusive, digitally printed design. By Dorani.
Designers have rediscovered classic tie designs and are turning them into their favourite shirt patterns. However, many patterns are just too gaudy and too loud. Shirt specialist Dorani focuses on the elegance of paisley. And on blue and white. This is not only stylish but also easy to mix and match. Contemporary digital printing produces extraordinarily delicate lines, exact contours and intense and consistent colours.
Excellent 2-ply quality.
Warp and weft weave makes the material thick, soft and silky. It is also amazingly resilient and hardly creases.
A masterpiece of tailored workmanship:
Seams with eight pearl stitches per cm ensure this shirt always stays in perfect shape without twisting. Durable 4-hole shank buttons for easy buttoning. Shark collar with removable collar stays. Adjustable 2-button cuffs with buttoned sleeve vents.

Slightly fitted with rear darts – contemporary, but comfortable. Length in collar size 16": 82cm (32.3"). Sleeve length: 67cm (26.4"). Colour: Blue/white. 100% cotton. Machine wash. Easy to iron.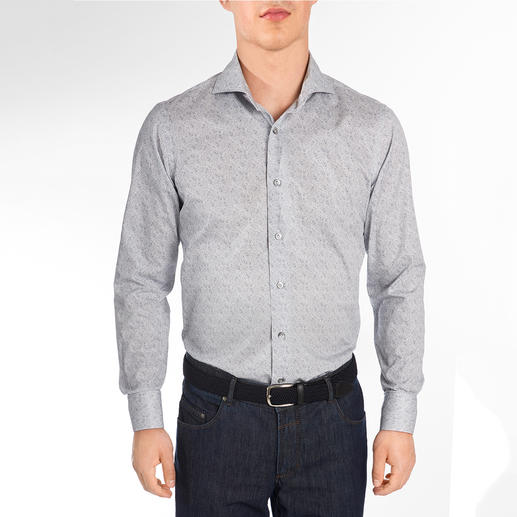 Be the first to review this product