Barutti Glencheck Jersey Jacket
Barutti Glencheck Jersey Jacket
Real business. But as comfortable as your favourite cardigan.
The wool jersey jacket in the classic Glencheck pattern. By Barutti.
The comfortable fabric has become the favourite material for fashionable jackets. But few designers hide their sportswear origins so well. Due to the high wool content, the elastic jersey knitted fabric looks very similar to woven suit cloth. The classic Glencheck design is more elegant than plain jerseys and underlines the flawless character.
Comfortably soft, warm and highly resistant to wrinkles.
No unnecessary lining, no bracing inserts compromise the elasticity. Only the sleeves are furnished with smooth taffeta, which makes slipping on easier. As with classic ready-made jackets, it has hand-stitched seams on the front yoke.
Modern slim cut. A pleasing low price.
With two back slits, two attached blazer pockets, one attached breast pocket, two inside pockets (one with flap and button), pen compartment.

Slim fit. Length in size 40: 72cm (28.3″). Colour: Grey/Black. 40% cotton, 38% wool, 22% polyester. Dry clean.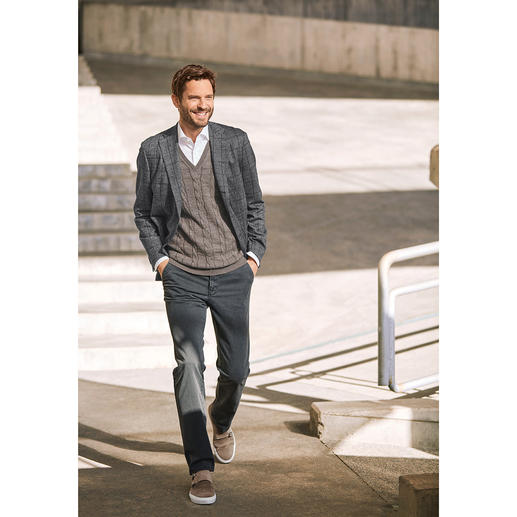 These on-trend pieces go well with 'Barutti Glencheck Jersey Jacket':
Be the first to review this product