[schi]ess Jersey Top, 3/4-length sleeves or Maxi Skirt
[schi]ess Jersey Top, 3/4-length sleeves or Maxi Skirt
A jersey outfit for everyday wear or elegant leisurewear? Both!
Chic black. Soft jersey. Clean, casual cut. By [schi]ess.
Sophisticated black. The soft, thick and shape-retaining jersey, and in particular the clean cut, make this feel-good outfit ideal for an elegant everyday look suitable for all occasions. Moreover, the comfortable stretchy material offers ample freedom of movement, and won't crease or pill.
[schi]ess, sustainable couture, designed, knitted and tailored in Germany.
The label of Swiss-born Alexandra Schiess does not follow short-lived trends but stands for long-lasting fundamentals. The cotton and linen used originate entirely from controlled organic cultivation and in accordance with the Global Organic Textile Standard (www.global-standard.org). Casual top with 3/4-length sleeves in clean-cut, collarless style. With rounded hem, generous round neckline and longer length back. Flattering maxi skirt with a wide, comfortable waistband and subtly incorporated pleats. Two sewn-in side pockets, two back pockets.

Straight cut. Length top in size 10/12: 68cm (26.8"). Length skirt in size 10/12: 87cm (34.3"). Colour: Black. 65% cotton, 35% linen. Machine washable.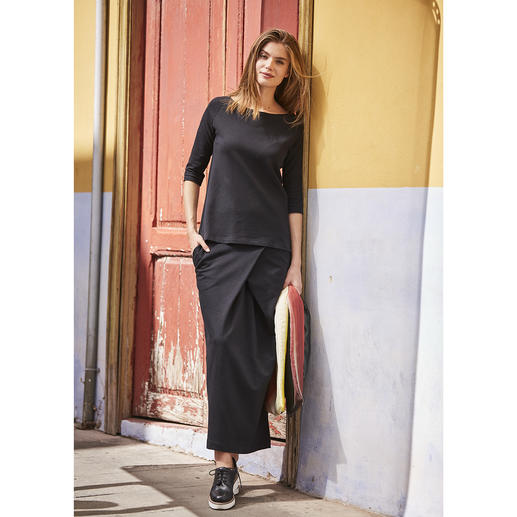 These on-trend pieces go well with '[schi]ess Jersey Top, 3/4-length sleeves or Maxi Skirt':
Be the first to review this product