05.07.2020 - You may experience longer delivery times due to the current circumstances and logistic difficulties that are out of our control. Further details are available on the webpage of each product. More
Ramie Trousers
Summer trousers made of rare ramie.
Ramie Trousers
Summer trousers made of rare ramie.
Summer trousers made of rare ramie.
Airy as linen, but smoother, lighter and more elegant.
Ramie is one of the oldest natural fibres in the world. The bast, also known as "China grass", is obtained from the stems of Far Eastern nettle plants. From 100kg (220.5 lbs) of harvested plants only 1.5kg (3.3 lbs) to a maximum of 3kg (6.6 lbs) of staple fibres are produced – far too little for the mass market. Therefore, ramie fabric is rarely found.
Piece dyeing makes the otherwise somewhat stiff fabric supple and soft.
Other benefits are its strength, smart lustre and good moisture-retention properties. The vegetable fibres absorb colours particularly well and are permanently lightfast.
Crisp five-pocket shape instead of baggy trousers.
More masculine than the usually rather wide trousers with a drawstring waistband made of linen-like fabrics – and more versatile for everyday life.

Slim fit. Inseam in size 34"R: 84cm (33.1"). Leg width at hem: 40cm (15.7"). 100% ramie. Machine washable.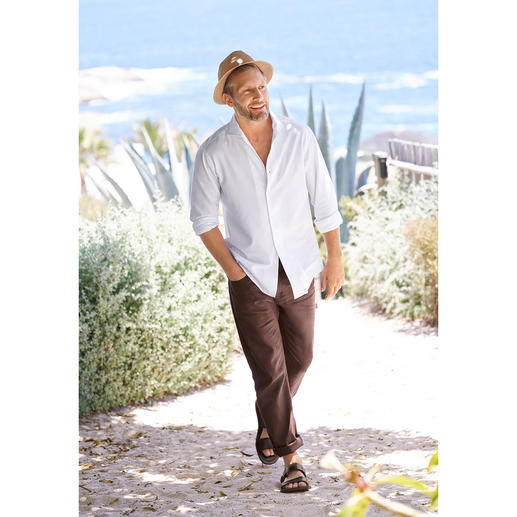 These on-trend pieces go well with 'Ramie Trousers':
Be the first to review this product