HOM Striped Swimming Trunks
HOM Striped Swimming Trunks
Less shiny, more stylish and more durable than most.
Jacquard woven swimming trunks by HOM, France.
The matte jacquard in this stylish striped design stands out from the artificial sheen of conventional swimwear. The woven pattern looks more vivid than a simply printed one. The high-quality swimming trunks are pleasantly soft, quick-drying, resistant to chlorine and salt water, colourfast, lightfast and do not wear out.
The retro shape is fashionable – and ideal for sunbathing and swimming.
You can tan your upper legs when wearing these trunks, which you can't when wearing the usual, long and baggy swimming shorts. The trunks do not puff up in the water, and offer little resistance while swimming. Integrated jockstrap. The supple elastic waistband with decorative belt is finished like a normal waistband and looks very stylish.

Colour: Ocean blue/white. 88% polyamide, 12% elastane. Lining: 100% polyamide. Machine washable.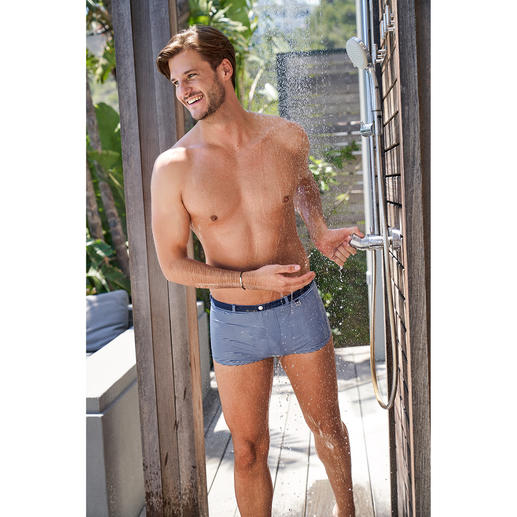 Be the first to review this product