From slush in the country to the carpet in first-class.
The Goodyear-welted, winter-proof ginkgo boots by Heschung, France.
Winter-proof boots are rarely made in such a sophisticated way: They don't just provide a casual look when combined with a pair of corduroy trousers or jeans, but they also look very smart when combined with a suit:
Water-repellent Italian calfskin leather, meticulously Goodyear-welted.
Using a classic shoemaking method, a flexible welt is sewn onto the insole instead of simply being glued on, which is usually the case. This makes your boots a lot more flexible and they adapt to the optimum shape for your foot.
Making one pair of boots requires 167 stages and takes about four days.
You can both see and feel the painstaking craftsmanship every time you wear these boots: The ginkgo boots are comfortable all day long and will last for many years. The striking twice-stitched double seams along the welt join the leather upper and the sole together, and make the boots particularly durable. The soft leather makes the shaft wonderfully supple. The strong, waterproof profiled sole made from natural latex is so flexible that it ensures a comfortable and natural gait. It offers surefootedness on every surface – even slush and snow.

With hook and eye lacing and vertical cap seam. Colour: Dark brown. Upper, lining and insole: Leather. Outsole: Natural latex.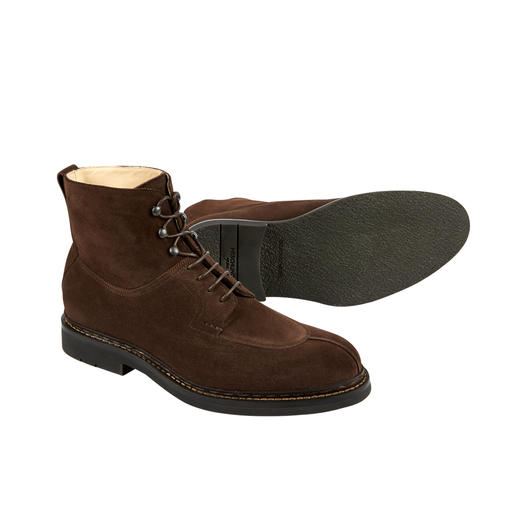 Be the first to review this product