04.04.2020 - We are still here for you. Standard delivery currently takes about about 5 to 7 working days. Mohr
G. H. Bass Penny Loafers "Weejuns"
G. H. Bass Penny Loafers "Weejuns"
The originals from the creator of the penny loafer.
Original "Weejuns" by G. H. Bass & Co. from Maine/USA.
The history of G. H. Bass & Co. dates back all the way to 1876. In 1936, its founder George Henry Bass introduced the first penny loafers to the market. The company called them "Weejuns", and the film stars from the 50s and 60s made them famous all over the world. Today they have become real fashion evergreens. From topping off business suits to giving casual polo shirts and chino trousers a classy upgrade.
Traditionally handmade in moccasin style.
The fine but strong calfskin leather encloses your feet perfectly. Sewn together by hand with characteristic stitching on the vamp, they adapt much better to the shape of the foot than machine-­stitched shoes.
Quality for decades.
Like all premium welted shoes with a genuine leather sole, you have to break in your Weejuns – but they will thank you for it with years of comfort. The hard-wearing, polished leather is soft and not susceptible to moisture, scratches and dirt.

Upper, lining and insole: Calfskin leather. Leather outer sole with good grip rubberised heel.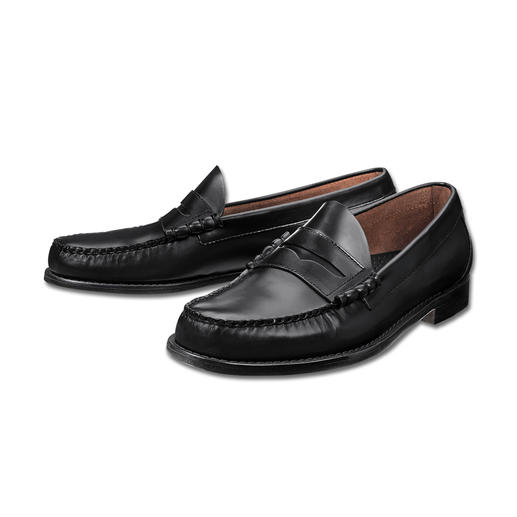 Be the first to review this product