05.04.2020 - We are still here for you. Standard delivery currently takes about about 5 to 7 working days. Mohr
Saint James Fisherman's Shirt
Saint James Fisherman's Shirt
Fisherman's Vareuse shirt: The Breton original in the up-to-date trend for workwear.
Made of sturdy cotton twill – windproof and hard-wearing. By Saint James.
To this day, this traditional shirt is used by fishermen in Brittany. The classic pull-on style with sailor collar is loose-fitting, ideal for work, and does not hamper movement. The slightly shorter sleeves do not get wet when pulling in the nets. The button on the inside cannot get caught on anything, and nothing falls out easily from the inside pocket. The sturdy fabric has an extra-dense weave, is hard-wearing and windproof.
Trendy concession: Bright denim blue.
It goes perfectly with summer, sun and sea, jeans with all washes, white linen trousers, beige chinos, red slacks, yellow Bermuda shorts, ...

Casual fit. Length in size 40/42: 72cm (28.3"). Sleeve length: 60cm (23.6"). Colour: Light blue. 100% cotton. Machine washable.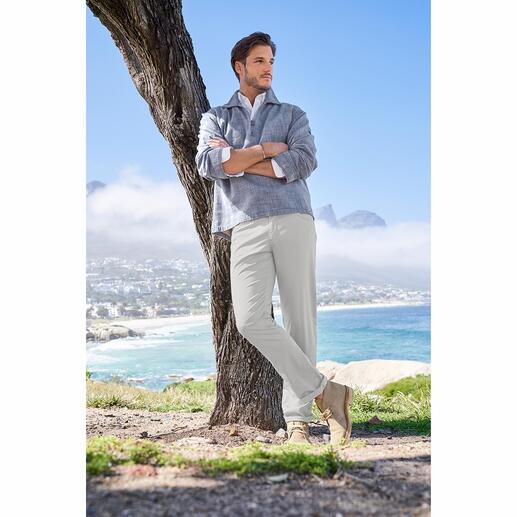 These on-trend pieces go well with 'Saint James Fisherman's Shirt':
Be the first to review this product