Washable Leather Field Jacket
Washable Leather Field Jacket
Your leather jacket for the summer – and for the washing machine.
The field jacket made of the finest, unlined kidskin suede.
A special tanning process makes the kidskin suede particularly soft and gorgeous and the need for expensive specialist dry cleaning superfluous. In case of stains, dust or collar dirt, you can simply pop this leather jacket in the washing machine with a specialist leather detergent. After drying, it is as soft and supple as before.
Weighing approx. 1,000g (2.2 lbs) a definite lightweight.
The secret of its success: Ultra-thin kidskin suede with a maximum thickness of 0.4-0.5mm (0.01"-0.02") and a velvety finish. Plus, there is no added-warmth from a lining which is unnecessary in the summer.
Unlined: The premier class in leather processing.
This requires skins of exquisite quality and the best workmanship – because without a lining nothing can be concealed. Smoothed by napping, the inside has neither colour nor leather blemishes.
The luxury of plenty of storage.
That's why your field jacket features four large flap pockets, two side pockets, and two spacious zipped inside pockets. Button tab on the shoulder. Waist drawstring on the inside.

Regular fit. Length in size 40: 74cm (29.1"). Colour: Nougat. Genuine kidskin suede. Machine washable.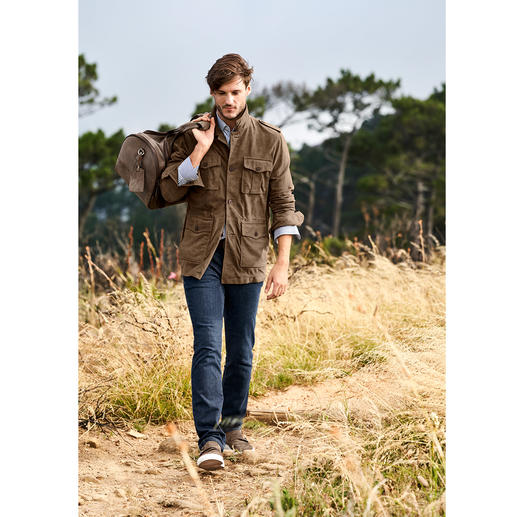 These on-trend pieces go well with 'Washable Leather Field Jacket':
Be the first to review this product