Solis Chamber Vacuum Sealer
From the Pro-Idee Special Shop
Cuisine
Solis Chamber Vacuum Sealer
From the Pro-Idee Special Shop
Cuisine
The chamber vacuum-sealer of the pros – at an excellent price. By Solis, Switzerland.
Creates a much stronger vacuum than conventional domestic vacuum-sealers. Also ideal for liquid foods and for sous-vide cooking.
In the professional catering and food trade, chamber vacuum-sealers have been essential for some time. Powerful, clean and quick and suitable for practically all foods of any consistency. Now, with this affordable device, you can also benefit from chamber vacuum-sealing at home. You'll be using the same professional technology with the same vacuuming performance as often twice as expensive (commercial) devices.
Creates a much more powerful and variable vacuum than conventional home vacuum-sealers. Also ideal for sous vide cooking.
Instead of removing only about 90% of the air (like most bar vacuum-sealers), the negative pressure chamber creates an almost complete vacuum with a minimal residual pressure of 0.015 bar (instead of normally 0.2 bar). This ensures that your food lasts longer and stays fresh.
Also, it easily seals liquid or moist foods with no dripping or leaking.
Unlike with bar vacuum machines, soups, marinades, gravy, ... are not aspirated during the vacuum process. No messy edge to the bag. Nothing runs out.
Ingeniously easy and safe to use.
Simply put meat, vegetables, coffee, ... into a vacuum bag, place it in the vacuum chamber and close the lid. You choose the vacuum and sealing time with the touch keys (tables included). Even delicate berries and salad leaves will not be crushed.
Seals 100% tight – in an up to 30cm (11.8") wide bag (instead of the conventional 21cm (8.3") bags).
Once the selected vacuum is reached, the bag is hermetically sealed with a double seam.
Also ideal for marinating within minutes (instead of hours).
Solid brushed stainless steel and plastic housing. Measures 37 x 27 x 40cm (14.6" x 10.6" x 15.7") (W x H x D), 7-litre chamber measures 20 x 23 x 10cm (7.9" x 9.1" x 3.9"). Weight 14.8kg (32.6 lbs). 150cm (4.9ft) power cable for 220-240V/350W.
Included at Pro-Idee: 100 vacuum bags and 4 rolls of film worth more than £80.
50 bags 30 x 40/20 x 30cm (7.9" x 11.8"/11.8" x 15.7"). 1 roll 20 x 600/30 x 600cm (7.9" x 236.2"/11.8" x 236.2"). More bags and rolls available separately.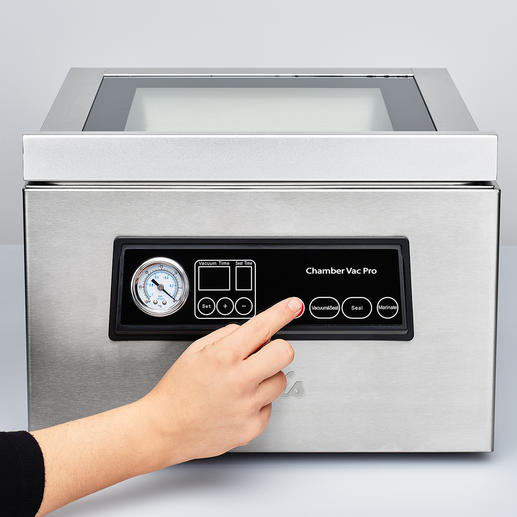 By Martin C. on 03.09.2019
Compact and easy to use
Surprisingly compact, ideal for use in domestic kitchen. Probably not ideal for keeping in a cupboard as it is fairly heavy, but could be manageable.