Antibacterial Touchscreen Cloths, Set of 5
From the Pro-Idee Special Shop
Cuisine
Smooth and shiny without the hassle of polishing.
Also ideal for laptop and PC monitors, TV screens, camera displays, eBook readers, keyboards, …
Antibacterial Touchscreen Cloths, Set of 5
From the Pro-Idee Special Shop
Cuisine
Smooth and shiny without the hassle of polishing.
Also ideal for laptop and PC monitors, TV screens, camera displays, eBook readers, keyboards, …
Sparkling touchscreens with a single wipe. And hygienically clean.
The antibacterial microfibre cloth with natural silver cleans your touchscreens of dirt, grease and germs with a single wipe.
Have you ever examined a mobile phone or tablet display under a microscope? Countless bacteria and pathogens can be found on them and are transmitted with every touch. These bioactive microfibre wipes absorb the germs with one wipe; natural active silver in the fibres destroys up to 99.7% of them. No need for expensive special cleaners.
Smooth and shiny without the hassle of polishing.
The enormous cleaning power of microfibres removes smudges and fingerprints in an instant. Safe and streak-free.
Also ideal for laptop and PC monitors, TV screens, camera displays, eBook readers, keyboards, …
Even when washed at 60°C (140° F), the active silver is not rinsed out. A set of 5 for home, office and on the go. Each one measures 12 x 10cm (4.7″ x 3.9″).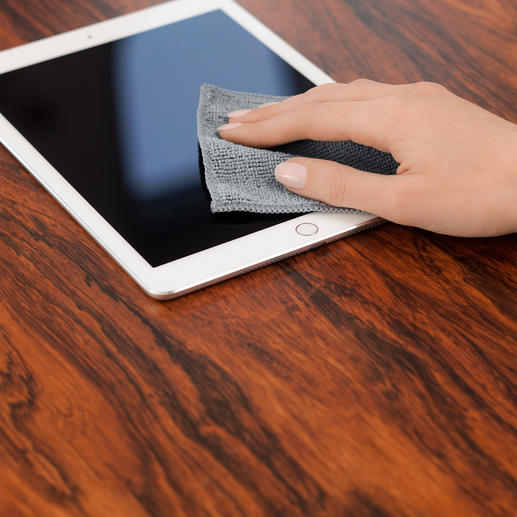 By Anne G. on 25.09.2019
Touch screen cloths
Very impressed with these cloths and good price. Cleaned my phone and iPad with just a wipe. Will buy definitely again.