Pininfarina Kauri Wood Ballpoint Pen
Pininfarina Kauri Wood Ballpoint Pen
The typical signature of Pininfarina: The ballpoint pen made with at least 48,000-year-old Kauri wood.
Made by Riva/Milano from the oldest and rarest wood in the world. Exclusively for Pro-Idee customers.
The Kauri wood with a linear grain that sank thousands of years ago in the swamps of New Zealand where it was optimally conserved, is at least 48,000 years old. Carefully salvaged, the rarity has now been processed by Riva/Milano into this sophisticated writing instrument with matching Kauri wooden holder.
Finest handcrafting – made in Italy.
Now in its third generation, Riva, a company founded in 1920, is today managed by brothers Maurizio and Davide. It started as a joinery and has developed into one of Europe's most successful wood-processing factories – with an exclusive, international customer base. That's how Riva/Milano came to manufacture this exquisite writing instrument for Pininfarina.
A certified treasure of prehistoric forests.
Each Pininfarina ballpoint pen is accompanied by a certificate that confirms the age as being at least 48,000 years old. The dating was done by radiocarbon method (C-14 method) at the University of Auckland. The radiometric method makes it possible to determine the approximate age of carbonaceous, in particular organic, finds.
Grace your hand – and your desk.
This slim writing instrument is wonderfully balanced in the hand. Elliptical Kauri wood inlays on both sides give the fingers a firm grip. The honey-brown wood, finely interspersed with grooves, feels particularly pleasant. An elegant contrast: The matt silver-coloured aluminium body.
Exclusive to Pro-Idee. Limited to only 500 pieces.
The pen is 16cm (6.3") long and has a diameter of max. 1.2cm (0.5"). Weighs 38g (1,3 oz). Refill with high writing performance black ink. Kauri wooden box (L x W x H): 19.5 x 5 x 3cm (7.7" x 2" x 1.2"). Pen and box with Pininfarina lettering.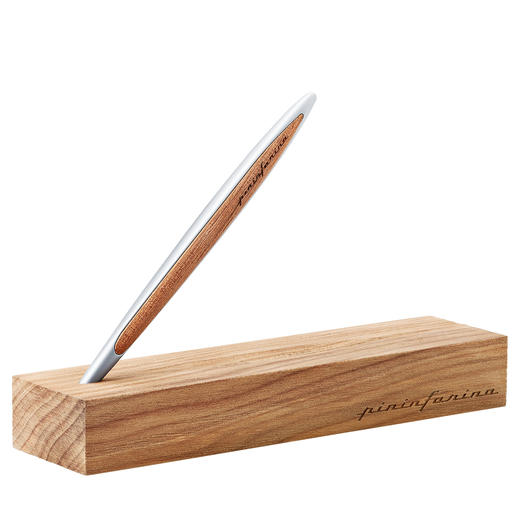 Be the first to review this product