Magnetic Cable Strip, Set of 2
Magnetic Cable Strip, Set of 2
Finally: Exactly the charging cable you need - at hand in a jiffy.
The magnetic cable holder: Saves you irksome searching and cable clutter.
Enough cable chaos, irksome searching and untangling. This ingenious magnetic holder organises your charging cables close at hand and in neat rows. Just push the desired cable with the connector plug upwards in the magnetically adhering clips. The flexible but still strong silicone holds round and flat cables up to 4mm (0.2″) in diameter without squeezing them. The self-adhering magnetic strip adheres to almost all smooth material and is mounted in seconds: On a desk, dashboard, a shelf in the hallway, etc. Removable at any time without leaving residue and used in another place. Measures with clips approx. 9 x 1.8 x 1.4cm (3.5″ x 0.7″ x 0.6″ (L x H x D)). Weighs approx. 35g (1.2 oz).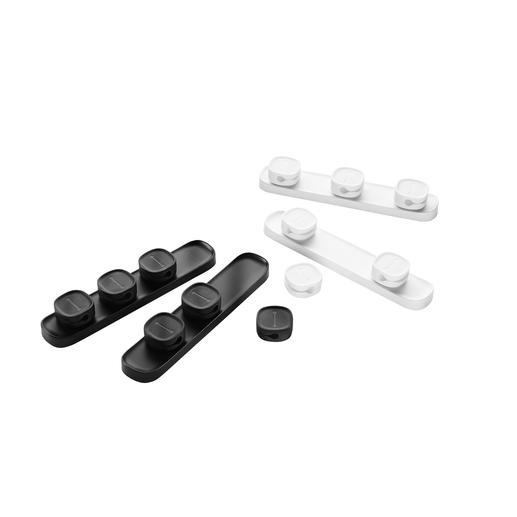 By Geoff B. on 23.07.2019
Good idea but needs more development.
From first impressions, this is a very useful and inexpensive product. However, in actual use it falls down miserably: - 1. The small circular magnets do not stay inside their housings, better glue is required. 2. The magnets are not strong enough. I found that they clung to a metal bedside lamp very well, but did not have sufficient force to hold onto the intended (plastic covered) metal strip. 3. The clip for the cable is okay for some cables if they are the correct diameter, but with thinner cables they just slide along the cable. Also, the clip will not accommodate thicker cables.
Pro-Idee Internet Editors: Thank you very much for taking the time to review this item from us. We regret that the Magenetic Cable Strip doesn't meet you expectations. For a full refund simply return the item - every purchase from Pro-Idee comes with a 30-day money back guarantee.