Invisibly reduce the risk of thrombosis.
Elegant travel socks with invisible support.
Incidents of deep-vein thrombosis are becoming more frequent particularly in long-haul travellers and can be fatal in some cases. You can prevent dangerous DVT by using these knee-high socks which have a support effect of 15-21 mm/Hg (corresponding to a Class 1 compression).
Sportsmen, frequent flyers and pilots are aware of the advantages of support stockings.
It was reported in the German press that the German athletes were actually required to wear support hose on the flights to and from the Olympic Games in Australia.
Also ideal for the office.
Many people suffer from "heavy legs" and swollen feet at the end of the day. Until now you could only prevent this with support hose in unattractive natural shades. These elegant knee-high socks with support are quite different. They will blend in easily with your clothes. The soft top means that they stay up comfortably without digging in.
Made from 63% cotton and 27% polyester and 10% elasthan. Machine wash at 40°C.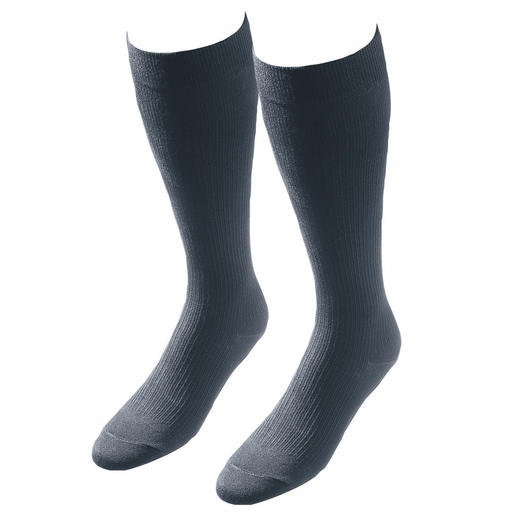 Be the first to review this product