Brilliant Finnish design: The wooden clothes hanger with a practical storage compartment.
High quality and hand-made. An eye-catcher for your wardrobe - and all right at your fingertips.
In your closet or bedroom, bathroom, guest room and dressing room, this designer wooden hanger is a classy eye-catcher - and much more practical than conventional clothes hangers: With a diameter of 45cm (17.8″) and a thickness of 5cm (1.97″), this ring is made of black birch veneer and birch plywood and can easily carry bulky coats and jackets. Dresses, shirts and blouses can also be ventilated optimally and be hung out smoothly. Unlike many other hangers, the rounding of the wood does not cause any creases: Your clothes will keep their shape perfectly.
Accessories, ties, hosiery, etc., are easy to reach in the storage compartment.
The shelf at the bottom of the ring offers generous storage space, perfect for wallet, key, watch, …
Sleek Scandinavian design. Made by hand in Finland.
Ring and shelf in 3mm (0.1″) birch veneer and birch plywood. Carefully polished and painted matte black. Smooth edges and surfaces prevent tearing threads on your clothing. Slightly gliding, stable metal hook. Design: Maria Kivijärvi. Measures 45cm (17.7″) diameter, 5cm (2″) width. Weighs only 0.35kg (12.35 oz). Useful for more than one purpose, for the medical practice/office cloakroom as well.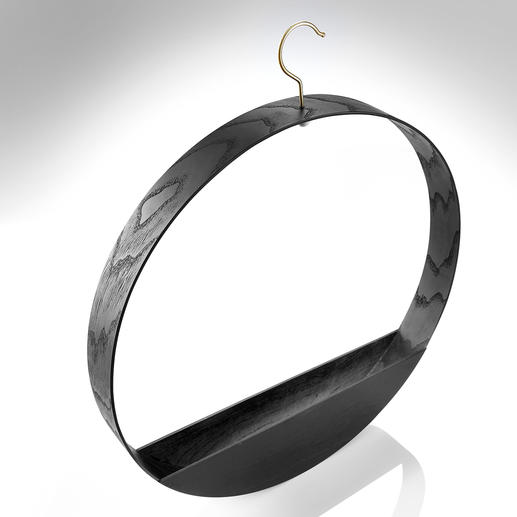 Be the first to review this product