Digital Magnifier for short and long distances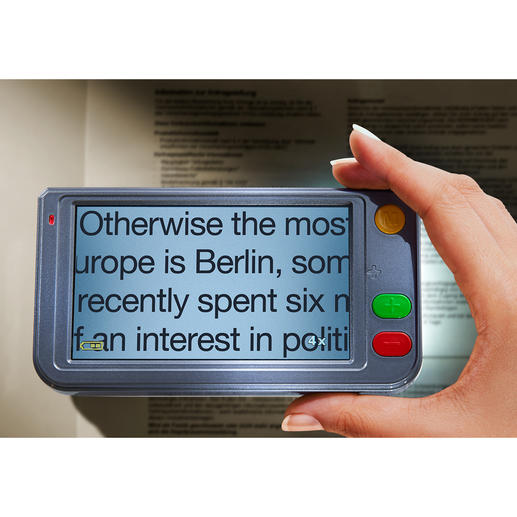 Ingenious digital magnifier: Read small print in a convenient way.
Magnifies by 4 to 50 times. Or up to 500 times on your TV screen. Ideal for collectors of stamps, coins, art etc. Suitable for use at home and on the move.
Its predecessor was already an ideal reading aid for any small print. However, this digital magnifier features a second function for long distances up to 1 meter (3.3ft). This makes it perfect for distant scoreboards, price signs and museum pieces etc. You can now examine them up close with a single touch of the button. You can also switch to the close-up feature and use your digital magnifier as a handy reading aid for small print, with puzzles, for viewing photos, stamps, maps, ...
Everything is displayed 4 to 50 times larger on the 12.7cm (5″) LCD screen.
Or even up to 500 times (!) on a TV screen (50″ TV). Incl. 3m (9.8ft) video cable to connect the magnifier. With built-in LED lighting for an illuminated display without shadows.
14 colour modes for optimum readability.
Choose between the original colour, greyscale, black on white, white on black, and 11 additional colour modes*. Brightness level adjustable in 6 stages. For a more thorough look you can "freeze" the image on the display. Also, to write comfortably under the magnifier, simply fold out the leg.
Weight 230g (8.1 oz) – lightweight, handy, mobile. With 4 hours of battery power.
Charging time of the lithium-ion batteries approx. 8 hours (USB cable included - a USB mains adapter is not separately available). Size 16 x 2 x 13cm (6.3″ x 0.8″ x 5″) (L x W x H) and weight 230g (8.1 oz). Incl. video cable, protective cover, microfibre cloth and instructions.

*Display mode: True colours, shades of grey, white on black, black on white, white on blue, blue on white, yellow on black, black on yellow, yellow on blue, blue on yellow, red on black, black on red, green on white, white on green..
Digital Magnifier for short and long distances