Experience unimaginably unrestricted sitting comfort.
Perfect for mobile use at home, in the office, at the clinic,…
Experience unimaginably unrestricted sitting comfort.
Perfect for mobile use at home, in the office, at the clinic,…
Progress for your back and nervous system.
Ingenious bio-swing technology prevents back problems. Verifiably improves performance, productivity and well-being. Ideal at work and at home.
You will experience an especially comfortable, flexible and yet secure seating position. However, the biggest advantage of the Foxter to your body is that you won't even notice it at first: Its unique bio-swing system reflects even the slightest body vibrations, such as the rhythm of your heart and even your breathing, with the same frequency (0.8-2.7 Hz = vibrations per second). The brain responds with continuous micro-impulses that you don't even feel. The effect: Muscles and nerves are constantly being trained and strengthened.
Dr Eugen Rašev (MUDr/PhD), specialist for neuro-orthopaedic rehabilitation in Schweinfurt (Germany) knows how important this is: "The nervous system is permanently more efficient and productive, the spine and the spinal discs are relieved from stress and strain, the back is strengthened and stabilised."
Experience unimaginably unrestricted sitting comfort.
You will feel how the cushioned vibrating elements (oscillators) gently accompany your every move in all directions. Simultaneously, they work as ideal shock-absorbers for the freely suspended seating area and ensure a stable and safe seating balance. No swaying, no wobbling and no difficult counter-balancing that often occurs with sitting balls.
Perfect for mobile use at home, in the office, at the clinic,…
The rotating stool swiftly glides on five 6.5cm (2.5") wheels to any location. The height is progressively adjustable from 48 to 60cm (19" x 23.6"). Cover made 88% polyester and 12% polyurethane. The foot is 49cm (19.3") in diameter and made of aluminium. Measures ca. 60cm (23.6") in diameter including the wheels. Weighs approx. 6kg (13.2 lbs).
Max. capacity 110kg (242 lbs). Made in Germany.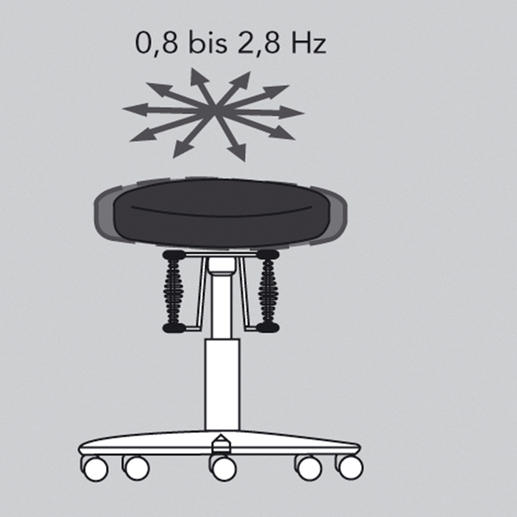 Be the first to review this product