Compact Torch Eco Beam Pro
Compact Torch Eco Beam Pro
Ingenious compact torch: With integrated USB charger.
350 lumens. 3 light modes with zoom. Rechargeable without additional cable.
This torch cannot be compared with conventional compact flashlights as it can be recharged easily via the integrated USB plug. No cable is needed – a simple USB port is enough. Charging time approx. 3 hours.
Choice of 2 light intensities. 3 light modes with zoom function. And up to 100m illumination range.
Push the power button and the powerful Cree LED lights up with a full 350 lumens and an illumination range of up to 100m. Push the button once more and the light will be dimmed to 70 lumens. Double-click to activate the flash light function.
Small. Compact. Powerful.
At just 9.4cm (3.7") long and weighing only 76g (2.7 oz), it is the perfect torch to carry in your trouser pocket, jacket or handbag, or for use in the car and when travelling. 700mAh lithium-ion battery for up to 3 hours of light in the brightest mode (4 hours on 70 lumens, 5 hours on flash light mode).
Extremely robust. Splash proof (IPX4).
Impact resistant aluminium housing. Measures 9.4 x 2.5cm (3.7" x 1.0") (L x diameter), weighs 76g (2.7 oz). With practical belt clip.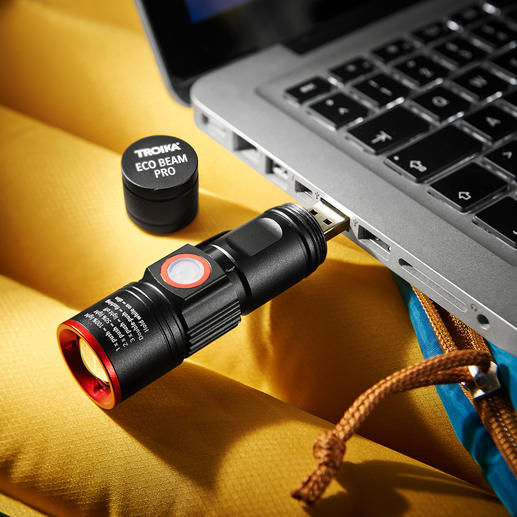 Be the first to review this product