3-in-1 Electric Multi-Tool
3-in-1 Electric Multi-Tool
Loudspeaker, torch and power bank in one handy tool.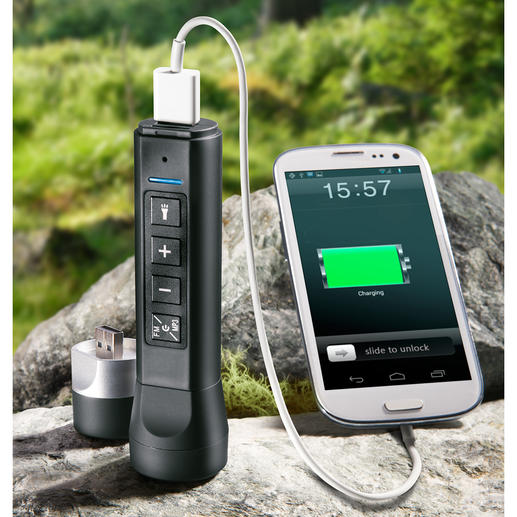 Compact and easy to use.
Whenever you're out and about, whether hiking, cycling, camping, having a picnic, or on the beach, this handy piece of kit allows you to listen to music, sporting events and catch up with the news. You can use the astounding audio rich 2-watt loudspeaker to play your own MP3 tracks via a Micro SD card.
Use the supplied handlebar mount to turn the torch into an additional bicycle light.
The incorporated LED light can be switched from a light beam to a flashing signal light. The integrated 2,600mAh battery provides the necessary energy, which also means you can recharge your smartphone while you are on the road.
Slim, elegant design. Plastic casing with non-slip soft-touch surface. Simple 4 push-button control. Functional indicator light. Micro-SD slot. Transmission via Bluetooth 4.2. USB port (USB charger cable included). Recharges in approx. 4 hours. Runs 6 to 10 hours depending on function and speaker option. Measures 15.3cm (6") in length, 3.8cm (1.5") in diameter. Weighs approx. 110g (0.2 lbs). Colour: Black.
3-in-1 Electric Multi-Tool
Be the first to review this product