Crispy-brown grilled sausages. In 5 minutes. At the touch of a button.
The fully automated sausage toaster: Ingeniously practical, clean and fast. And a cool party trick.
Surprise family and guests by conjuring up crispy grilled sausages at the touch of a button. 2 sausages in only 5 minutes. Without splashes of fat, without smoke and always fresh. The ingenious sausage toaster automatically finishes them perfectly. A delicious treat: At your party, at half-time, as a snack in between meals, etc.
Works as easily as your toaster.
Only put pre-cooked sausages in the roasting slots. Select the programme (thick or thin sausages) and start. Circular heating elements and intelligent temperature control guarantee crisp and even browning. When the sausages are ready, they are automatically raised and the appliance switches off. Or you can activate the keep-warm function (up to 30 minutes). Grill duration can also be set individually.
Can be dismantled for quick cleaning.
All removable parts are dishwasher safe. Simply wipe the 18/10 stainless steel body clean.
Long-lasting quality "made in Germany".
With cancel button, manual lift function and overheating protection. 100cm (3.3 ft) cable for 220-240V/approx. 2,000W. Wooden grill tongs included.  In an attractive wooden box, makes a great gift, especially for the men in your life. Free of charge: The Pro-Idee 36 month long-term guarantee.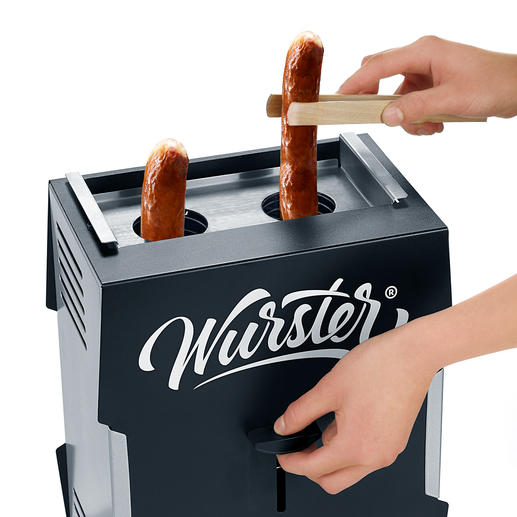 Be the first to review this product