Premium Flexible Garden Hose
The expandable garden hose: Much more practical, easy to store and more convenient. Now improved.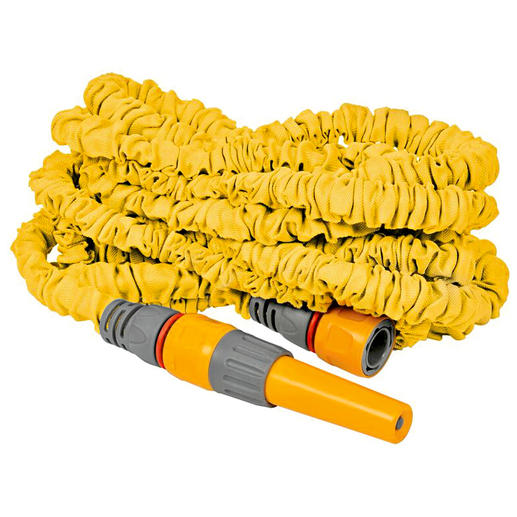 Stronger, more hardwearing, more durable. Expands automatically when the water supply is turned on. And, after use, it contracts to its original length.
This "magic hose" cannot be compared with simple flexible hoses, which usually wear out, tear or start leaking quickly, as it has been significantly improved at the crucial points. For example, plastic tubes on the end pieces, and a newly developed expansion holder to prevent the polyester outer rubbing and wearing at the coupling.
Much more practical, easy to store and more convenient than conventional garden hoses.
Forget bulky and heavy hose reels. Just turn on the tap and the inner, highly flexible natural rubber hose expands to 30m (98.4ft). Let the water drain and the hose and the sturdy polyester outer will return to the original length of only 10m (32.8ft)
Never kinks, tangles or twists.
And the garden hose will never be left in a messy pile again. Delivery includes a spray nozzle, 2 Aqua-Stop quick couplings, one ¾" and ½" tap connector each, storage box. Weight approx. 800g (1.8 lbs).
Premium Flexible Garden Hose
Be the first to review this product