Ingeniously versatile: The ultra-slim multitool with adjustable spanner.
Replaces a whole set of wrenches and 13 other tools.
Incredible: There is a whole set of wrenches and 13 other tools in this 1.2cm (0.5") (!) thin multitool. The trick: Unlike conventional multitools, this has an ingeniously versatile spanner integrated. With the adaptable jaws, you can precisely grasp hexagonal nuts of 9 - 18mm (0.4" - 0.7") and turn them easily and quickly according to the ratchet principle – without slipping off. The long lever arm (13.5cm (5.3")) transmits the power optimally.
Weighs only 190g (6.7 oz). Practical, handy, always to hand.
At home or out cycling, camping, out into the wildness ... the 2-part multitool replaces a whole toolbox. It equips you totally for minor repairs and work on the go.
Stainless steel coated with ultra-hard titanium: Stainless and almost indestructible.
Safe and handy to stow in the nylon case with belt loop. Size (L x W x H): 16 x 3.7 x 1.2cm (6.3" x 1.5" x 0.5"). Weight: 190g (6.7 oz) including case.
27 tools in one:
• Adjustable spanner for hexagon nuts with a diameter of 9mm (0.35"), 10mm (0.39"), 11mm (0.43"), 12mm (0.47"), 13mm (0.51"), 14mm (0.55"), 15mm (0.59"), 16mm (0.63"), 17mm (0.67") and 18mm (0.71")
• Wrench for 6mm (0.24"), 7mm (0.28"), 8mm (0.31") and 9mm (0.35")
• 3 magnetic cross-head screwdriver bits
• 3 magnetic slotted screwdriver bits
• Wire cutter
• Stripper
• 4mm (0.16") spoke wrench
• File
• Ruler
• Lever rod
• Bottle opener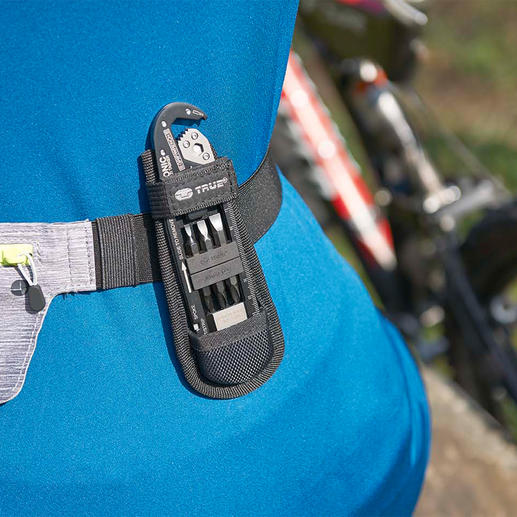 Be the first to review this product