Once used by the couriers of the US Pony Express. Today Italian elegance. A stylish accessory.
Saddlebag made of fine cowhide leather. Ideal for city, travel, or office. By Chiarugi/Firenze, exclusive to Pro-Idee.
In the middle of the last century in the United States, urgent mail was sent by Pony Express. In no time, the couriers covered huge distances on fast horses. The east/west route, more than 3000km, passed through often deserted, dangerous areas. To transport their urgent cargo, the riders used triple-locked leather bags which were attached either side of the saddle.
Stylishly reproduces the classic form, but is softer, lighter, more comfortable to carry.
With the typical striking flap with eye-catching, triple leather straps, which were locked by strong buckles. This ensured the contents of the bag were well secured, even during wild chases. Today, the bag closes much more readily thanks to strong magnets. Two-way adjustable, side snap fastener tabs keep the main compartment taut – and prevent it from opening even when it is full to capacity.
The strong cowhide leather is vegetable tanned and dyed. With an elegant, silky shimmer – but indestructible in use.
A discreet grain and subtle shading liven up the warm brown tone. Gentle polishing gives the leather a refined shine and makes it soft.
Infinitely adjustable shoulder strap. Strong handle. Sturdy base.
Perfect to carry as a shoulder bag, cross-body bag or in the crook of your arm. Main compartment with large zipped section, two pockets. Check lining with jacquard Chiarugi logo. Zipped pocket at the back. Shell: Cowhide leather. Lining: Pigskin suede and textile. Antique brass-coloured metal work. Measures (L x H x D) 32 x 12 x 30cm (12.6" x 4.7" x 11.8″). Weighs approx. 600g (21.2 oz). Made in Florence, Tuscany.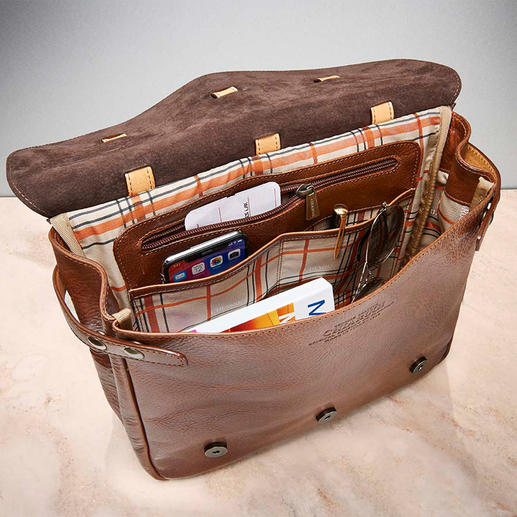 Be the first to review this product