Unique work of art that lets the soul of the precious wood shine.
Superfine, laminated olive ash wood makes the impressive LED floor lamp light up in a fascinating manner. Each item is unique.
The gently sanded, thin layers of olive ash wood of up to 0.3mm (!) are carefully applied to acrylic glass. The extremely thin veneer is translucent and beautifully encases the acrylic glass body. The 4mm thick acrylic glass reflects the light of the LED bulbs and transforms it into soft, indirect lighting. The special treatment with natural oils intensifies the colour contrast of the wood grain: The wood takes on an extraordinary colour intensity, which is really fascinating – even when the lamp is switched off.
The olive ash grain is as unique as a fingerprint.
The dark, light and topaz brown growth rings have contorted throughout the growing process. As a result, the grain structure is extremely lively and evokes many associations.
The latest LED technology puts the natural work of art in a good light by making it energy-efficient, durable and with high luminosity.
To achieve the best results, high-power LED bulbs from Illumis USA are used exclusively. The 200 LED bulbs provide perfectly even illumination. In addition to optimal energy efficiency and natural colour rendition, they have a high luminosity (2640 lumens) and a very long service life of up to 25,000 hours.
Get one of these unusual, precious items for your living room or bedroom, your office or company entrance.
A stunning highlight, even in the most exquisite setting. Size 190cm (6.2ft) H, 28cm (11″) diameter. Weight 12kg (26.5 lbs). Rods and foot made from premium powder-coated stainless steel, featuring a 6mm thick base plate with protective felt pads. 2.5m (8.2ft) connection cable with treadle switch for 230V/25W. Efficiency class A +. Easy to wipe with a soft cloth. By LeuchtNatur, handmade in Germany.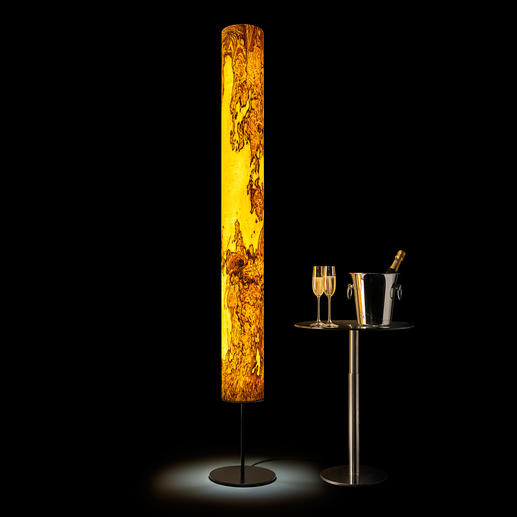 Be the first to review this product