Place Mat "Monstera", Set of 2
Place Mat "Monstera", Set of 2
Bring the jungle trend to the dining table with these amazing place mats in the shape of a monstera leaf.
As elegant as leather. Almost indestructible and easy to clean.
As far back as the 1950s, exotic monstera plants were the source of inspiration for many works of art and were seen in the studios of many celebrities. Now, the popularity of the monstera plant is growing again and it's becoming a real botanical must-have. The place mats, in the shape of the striking, deeply incised large leaves, reflect the latest jungle trend perfectly. The trendy eye-catchers come in two sizes and two shades of green that can be combined beautifully.
High-quality leather fibres made of genuine cowhide and natural latex.
The place mats are 1.6mm thick, consist of 80% cowhide and have a very fine, embossed motif which makes it feel very natural. The same material is used to upholster the inside of luxurious limousines.
Elaborately crafted leather look – robust, water-repellent and easy to clean.
The cowhide is finely shredded and then mixed with natural latex for durability. After this, the mix is rolled flat into sheets. Then the embossing makes sure that the typical cowhide grain is retained. The non-slip underside ensures that the place mats stay nicely flat in place. Oil, red wine and juice stains are easy to wipe off.
A mix and match miracle.
The 2-part sets each contain 2 leaves in blue-green or light olive green. Size large place mat 42 x 3cm (16.5" x 0.8"), size small one 26 x 22cm (10.2" x 8.7"). Weight large place mat 170g (6.0 oz), small one 60g (2.1 oz).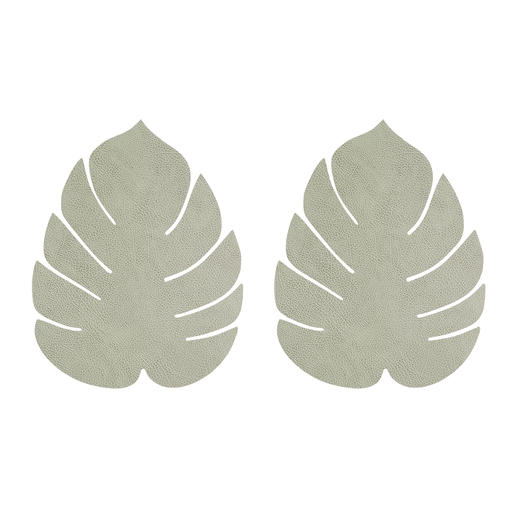 Be the first to review this product