Photorealistic Jacquard Blanket
Photorealistic Jacquard Blanket
Luxurious woven jacquard instead of a simple print. Velour, as soft as cotton. Pleasantly affordable.
Large photorealistic blanket with a beautiful deer image. Traditionally woven in Austria.
Surrounded by mysterious, diffused light, the majestic deer enters the clearing. A magical moment – hard to believe that this lifelike black and white image is actually a jacquard weave – and not a printed reproduction.
The long pile weave gives the motif a vivid expressiveness, three-dimensional depth and photorealistic precision.
Over the course of many years of research, traditional Austrian weaving mill Fussenegger has succeeded in refining the classic jacquard weaving technique for such a demanding photo-like motif. This jacquard is lifelike in every detail. Unlike printing, there is no plain side. Intricately fully woven through, the motif appears on both sides in positive or negative colour.
More than just a fad.
Regardless of current trends, deer motifs are among the great classics of the Alpine region. For generations, these motifs have been deeply rooted in the alpine identity – as a symbol of the beautiful and powerful nature of the mountains.
Wonderfully cuddly blanket. A nice country style piece for your home.
Feel the skin-pampering, 5mm (0.2") deep pile. 85% cotton combined with silky viscose and strong acrylic make the velour wonderfully comfortable. Ideal for curling up on the sofa or an outdoor lounger, unsurpassed as a lightweight yet warm throw when reading, chatting, watching TV, etc.
Resilient against dirt, colour-fast and easy to clean.
The firm-piled fabric does not pill or shed – and is also comfortable for sensitive skin thanks to its high cotton content. If necessary, you can simply clean the blanket by popping it in your washing machine. After washing, pull it into shape and let it air-dry.
Only rarely is top-quality so affordable.
5mm (0.2") deep pile velour in primary colour grey. The short sides are neatly hemmed; the long sides have a secure selvedge. Size: 150 x 200cm (59.1" x 78.7"). Weight: Approx. 1.4kg (3.1 lbs). 85% cotton, 8% viscose, 7% acrylic. By David Fussenegger – since 1832. Always a great gift.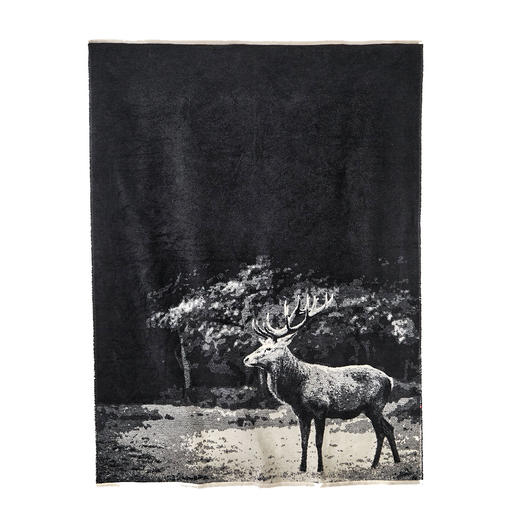 Be the first to review this product