Glass Bauble with micro LEDs
Glass Bauble with micro LEDs
A beautiful sea of light – in bang up-to-date tinted glass.
XXL glass bauble with tiny integrated LEDs. A decorative and festive light ornament, for hanging and freestanding.
At the window or in the middle of a Christmas or flower arrangement: With this large and elegant glass bauble you'll have an impressive eye-catcher in any room.
During the day, a stylish large glass bauble with a warm shimmer. In the evening, a bewitched universe of countless LED light dots.
The trendy tinted glass glows softly like precious amber. As it's carefully galvanised, the glass is slightly mirrored. The bauble has such a beautiful and delicate shine – and the wires of the fairy lights within are barely visible, making the tiny LEDs seem to float freely.
Lively wave pattern.
The 0.5mm (0.2") thick glass has curved wavy lines. When exposed to light, these lines create delicate reflections – and beautifully accentuate each rotation of the (hanging) bauble.
Battery compartment with 35cm (13.8") cable within the suspension cap.
The light chain with 15 warm white micro-LEDs consumes only 0.9W. Lifespan of the LEDs approx. 50,000 h. Timer function (6 hours). Battery powered with 2 AA batteries (sold separately). Glass bauble with sturdy stainless steel cap and hanging loop. Size 18cm (7.1") in diameter. Weight approx. 285g (10.1 oz). Only suitable for indoor use.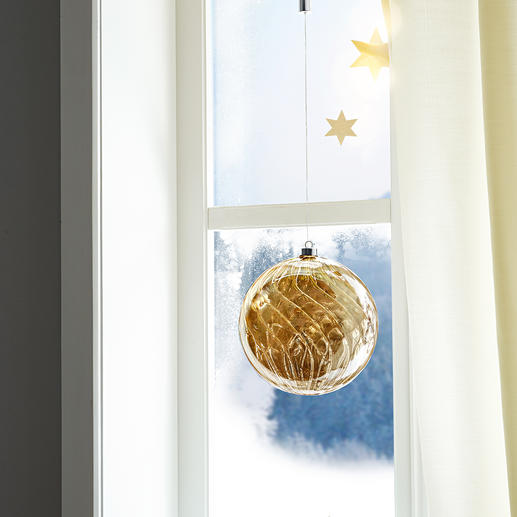 Be the first to review this product