Beurer Electric Body Brush
Beurer Electric Body Brush
Perfect skin care – very practical directly in the shower or bath.
Electric body brush with cleansing and exfoliation attachments, 2 rotation levels and attachable handle. By Beurer.
With this waterproof electric brush, your daily shower becomes a wellness treatment. The cleansing attachment massages your shower gel gently onto your skin, cleaning deep into the pores and at the same time stimulates blood circulation. Once or twice a week, pamper your skin with the exfoliation attachment. Dead skin flakes and impurities are gently and thoroughly removed. With regular use, your skin may appear softer, fresher and rosier in a short time.
Thanks to the attachable handle you can easily reach your back and the soles of your feet.
Depending on your skin type and individual preference, choose between slower or faster brush rotation. Easily controlled via the on/off switch. A warning light shows you the speed level and the battery level.
800mAh lithium-ion battery for up to 60 minutes continuous operation.
Charging time approx. 120 min. Waterproof plastic housing (protection class IPX7). Brush including attachment measures approx. 7.2cm (2.8") in diameter, 10cm (3.9") H, weighs approx. 270g (9.5 oz). Handle measures 39 x 9.7 x 3.9cm (15.4" x 3.8" x 1.5"), weighs approx. 140g (4.9 oz). Incl. 100-240V power supply, 2 cleaning attachments (instead of just one), 1 exfoliation attachment, handle, instructions. Colour: Pink.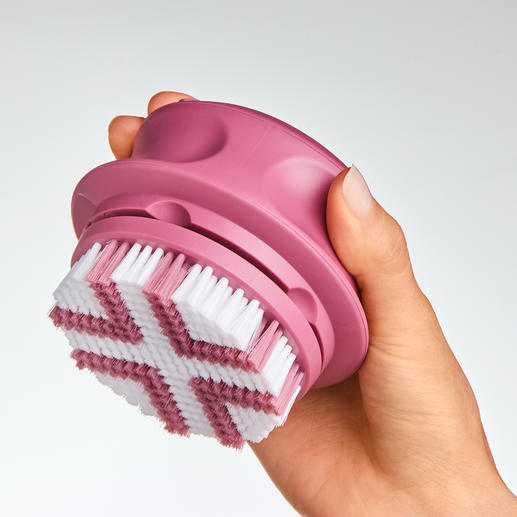 Be the first to review this product