Antibacterial Memory Foam Bath Mat
Antibacterial Memory Foam Bath Mat
Pampering luxury, perfect hygiene: The microfibre bath mat with memory foam padding.
Incredibly soft, absorbent and quick-drying – featuring an antibacterial finish.
Feel the difference: The soft-as-moss, dense 0.3cm pile envelops your feet. The heat from your feet causes the viscoelastic foam inlay to adapt to your foot shape and makes you feel like you're standing on clouds.
Always returns to its original shape.
Every (foot) print disappears as soon as you step off the mat. No traces remain, not even after frequent use.
The microfibre absorbs 4 times more water and dries in no time. The antibacterial finish permanently eliminates up to 99.9% of the bacteria and mould.
No water remains so one of the biggest evils for causing mould and bacteria to thrive is banished. Tested by Intertek (Test no. GZHT02134993).
Won't slip thanks to the slip-resistant coating. Elegant stripe relief. On-trend colours.
Even on damp floors, the SBR coating (styrene, butadiene, rubber) ensures that the mat doesn't slip. Measures 50 x 70cm (19.7" x 27.6"), approx. 2.2cm (0.9") thick. Weighs approx. 0.7kg (1.5 lbs). Pile: 100% polyester. Memory foam: 100% polyurethane. Machine washable. Suitable for underfloor heating. Exclusive to Pro-Idee.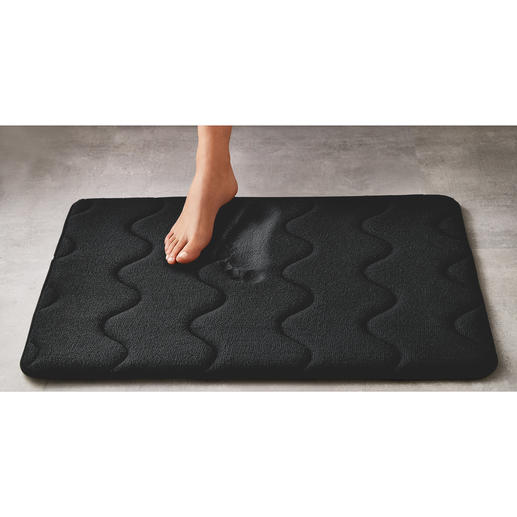 By Anne G. on 25.09.2019
Bath Mat
This mat is really good does what it says on the internet and the price is good. Very pleased.