07.04.2020 - We are still here for you. Standard delivery currently takes about about 5 to 7 working days. More
A magnificent splendour of the finest origin.
Handcrafted from precious soy wax. Lasting shine. For pleasantly scented candlelight with 40 hours of burning time.
No candle - an elegant bonbonniere, for pens or as a cosmetics tray, …
A magnificent splendour of the finest origin.
Handcrafted from precious soy wax. Lasting shine. For pleasantly scented candlelight with 40 hours of burning time.
No candle - an elegant bonbonniere, for pens or as a cosmetics tray, …
An aura of luxury; scented Versace candle in elegant Rosenthal porcelain.
Highly typical with a magnificent shiny gold Medusa motif. An opulent feast for the senses.
Unmistakable Versace. This luxury scented candle was created with a feeling for high-end lifestyles. "Le Jardin", composed of precious essences, infuses the fragrance of aromatic summer gardens in your living room, bedroom or bathroom. A fresh, light symphony that radiates luxury and serenity and lets you breathe a sigh of relief.
A magnificent splendour of the finest origin.
The central eye-catcher is the Medusa head, Versace's trademark. It shimmers golden on a deep red or deep blue background - with black/golden tendrils and borders enveloping it in a richly formed setting. Manufactured by Rosenthal in Germany and fired at a high temperature of 1,400 °C, the porcelain has a long service life - and the decoration retains its intense, lasting shine.
Handcrafted from precious soy wax. Lasting shine. For pleasantly scented candlelight with 40 hours of burning time.
Embedded in the particularly fine, rich wax, the fragrances are optimally able to be released. The wax also produces a pleasantly calm flame that burns evenly - until the last drop.
No candle - an elegant bonbonniere, for pens or as a cosmetics tray, …
Amazingly versatile for use in the living room and bedroom, guest room, bathroom, office, … Measures 14cm (5.5″) height, max. 8.5cm (3.3″) in diameter. Weighs 0.6kg (21.2 oz). Rinsable.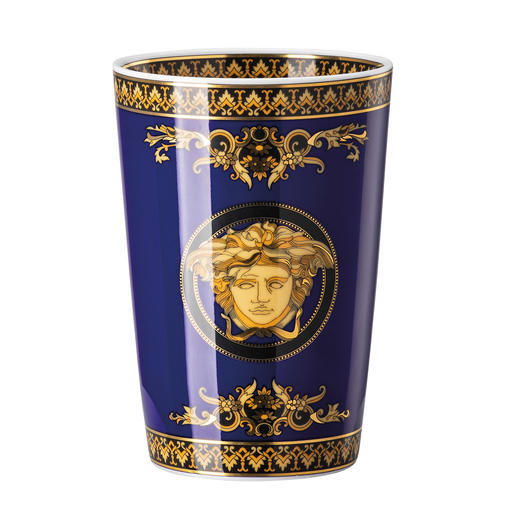 Be the first to review this product