Advent Calendar Kit Porsche 911
Advent Calendar Kit Porsche 911
Daily pleasure: The Advent calendar with the legendary Porsche 911 kit.
It will bring you closer to your dream car in 24 steps. In form of a 1:43 scale model. Officially licensed.
The Porsche 911 is known worldwide as a legend in the automotive history. One glimpse is enough to bring the fans' pulse rate from 0 to 100 in seconds. First available as a series at the IAA in Frankfurt in 1963, the original model had a production run spanning 10 years. Now you can recreate the 1965 Porsche 911 in detail - incl. the display with sound module, 2D models, background tables, ... An eye-catcher on your desk, in your window or on your shelf.
Components and accessories for the 911 come in 24 boxes with a four-colour print featuring Porsche motifs – which make this Advent calendar an eye-catcher.
A drawer made from sturdy cardboard (350g/m², 0.071 lbs/ft²) keeps the boxes from slipping. Taking a component for your 911 Porsche from your calendar every day during advent guarantees a festive mood. Afterwards, each box can be reversed and placed back into the carton. The reversible motif on the boxes gradually forms a completely new image.
Licenced by the Porsche Museum in Stuttgart.
From the bumper to the hatchback, all the details are true to the original and of the highest quality.
No need for finicky gluing.
All parts are made of durable plastic – easy to assemble or screw together. The colour of the model's chassis is Bali blue. True to style, the cardboard slipcase has been coordinated with the blue 911 car.
An integrated sound module with original 911 engine sounds brings the model to life.
Drivers, turn on the sound! It'll be music to the ears of every Porsche enthusiast. A plastic display that can be put/screwed together, with sound module, battery compartment, on/off switch and bottom studs.
In the accompanying, richly illustrated book, Porsche expert Jürgen Lewandowski talks about the success story of this automotive legend.
You'll learn everything worth knowing about the vehicle and the engines of the 911 series. A wealth of historic photos, drawings and posters from the historical archive at the Porsche Museum demonstrate this important period of automotive manufacture. 52 pages, 4-colour printing, softcover.
Also makes a perfect gift.
The intricate stand-up calendar measures 33 x 28.5 x 4cm (13″ x 11.2″ x 1.6″, W x H x D). Weighs approx. 0.65kg (1.43 lbs). Complete with accompanying booklet, model kit and display with sound module. Finished dimension socle included: 19.8 x 7 x 8.7cm, (7.8″ x 2.76″ x 3.43″), W x H x D. Weighs approx. 0.19kg (0.42 lbs). Runs on two AA batteries (sold separately). From 14 years of age and up.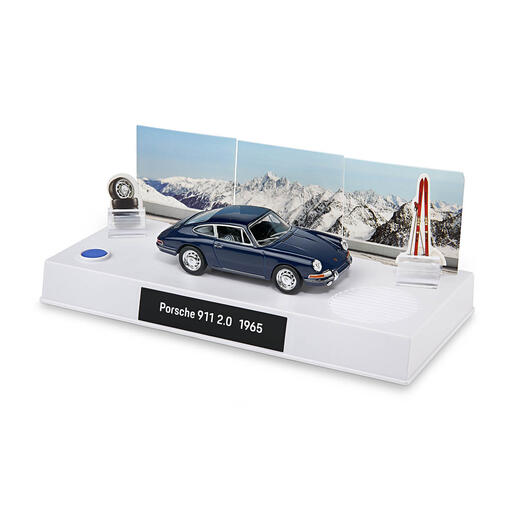 Be the first to review this product