Pure white and off-white, cream, ecru and oatmeal ...
Dear Reader,
The 2019 fashion summer will not only be colourful and bright. As a contrast to the many eye-catching trend tones, more restrained hues are now coming into play. Light colours are key, and the more the better.

We love pure white and off-white, cream, ecru and oatmeal. But also, beige, cognac and sand as well as light greys and taupe. Styled from head to toe, these natural tones look very sophisticated. And because they really go with everything, they can be combined with your existing wardrobe again and again.

Enjoy the most beautiful time of the year in these authentic, precious and often rare classics.

Kind regards,

Dieter Junghans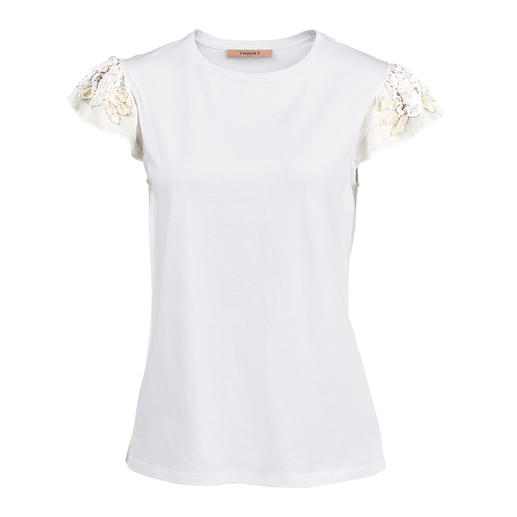 Not just white basics – but decorated with rare, feminine floral motifs. By TWINSET.
TWINSET Floral Basic Shirt or Top
Ultra-lightweight. Super flexible. And elegant enough to wear with a summer suit.
Sole Runner® Leather Moccasins
Back in vogue: The cloche hat from the twenties. More flexible and hard-wearing than most other hats.
Mayser Cloche Hat
Contact:
Pro-Idee * Woodview Road * Paignton * TQ4 7SR
Tel: 01803 677 916 * Fax: 0844 324 8529 * www.proidee.co.uk * info@proidee.co.uk

Legal Notice:
Pro-Idee GmbH & Co. KG, Gut-Dämme-Straße 4, 52070 Aachen, Germany
By phone: 0049 (0) 241 109 119
By fax: 0049 (0) 241 109 121
By email: service@proidee.de
Personally liable partner:
Fairway GmbH * Head Office: Aachen * Court of Registration: District Court Aachen, HRB 5224 * Managing Directors: Dieter Junghans, Ulf Bergjohann
Pro-Idee Geschäftsführungs-GmbH * Head Office: Aachen * Court of Registration: District Court Aachen, HRB 5994 * Managing Directors: Dieter Junghans, Ulf Bergjohann
Pro-Idee GmbH & Co. KG, Court of Registration: District Court Aachen, HRA 4027
VAT. Reg. No. 777 495 661
Platform of the EC commission for online dispute resolution: https://ec.europa.eu/consumers/odr/