The indestructible Flexbook
The indestructible Flexbook
Stylish and indestructible: The newest generation of Flexbook notebook.
High quality and hand-made. Extremely flexible. Can be opened 360° unscathed.
Notebooks have been loyal companions to great globe trotters and authors for centuries. Now business people, managers, creative minds are renewing this noble way of recording thoughts and impressions – with modern comfort.
Can be opened/folded widely like a spiral pad. But finely finished and bound like a book.
Open the book 180°: It will stay flat when open – without holding it. And without the pages turning over on their own. Relaxed, neat work is thus much simpler for both right- and left-handed people. Open the Flexbook a full 360°: A patented, specially sewn book spine gives the pages high holding force and keeps them from ripping out. The impeccable look is always preserved.
Plastic binding with fine soft lacquered structure, elastic band and practical paper pocket.
The Flexbook's high flexibility allows it to be bent in any manner. It always returns to its original shape without rips or creases. The book withstands everyday and travel strains due to the water- and dirt- repellent cover.
Handy format. 192 sheets of fine 85g paper by Fabriano, with subtly dotted lineation.
Finest lines on ivory background make the paper ideal for handwriting and drawing. The paper thickness is also optimal for ink. Measures 13 x 21cm (5″ x 8″). Weighs approx. 285g (10 oz). Also makes a great gift. Handmade in Greece.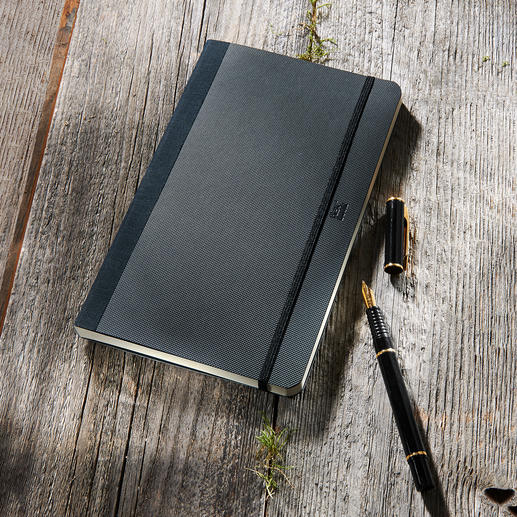 Be the first to review this product